Green is for Nature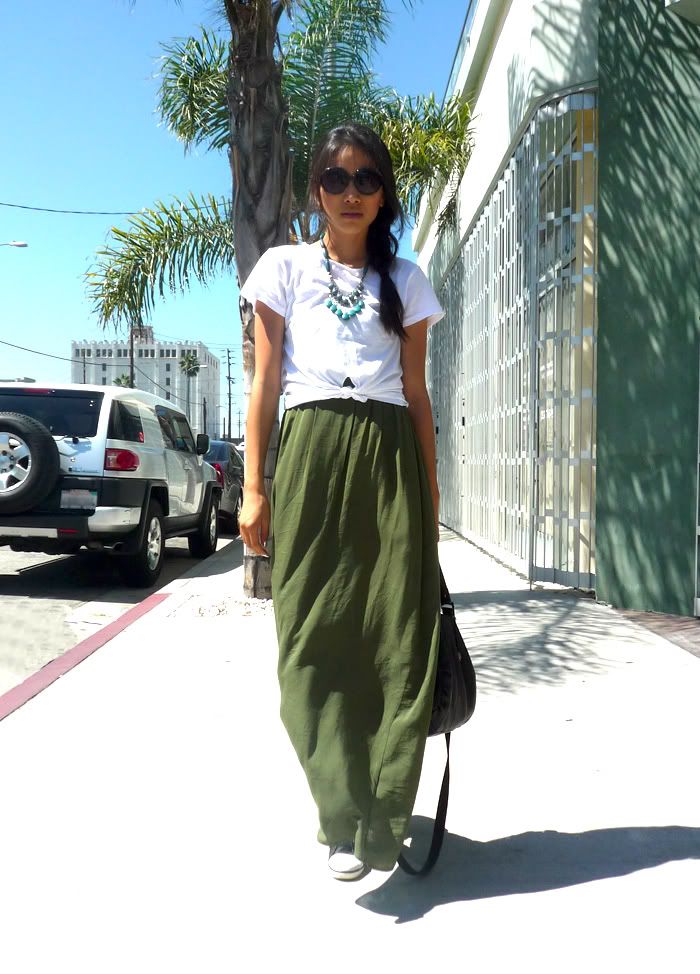 DIY white t-shirt | F21 maxi dress and sunglasses | UO necklace
This weekend is surprisingly supposed to be below 80degrees in Los Angeles. I
will
should be the good over-achiever and spend my free time getting ahead on my homework to avoid getting overly frantic with too much reading to do when I get back. It's still a pretty early Saturday. Hopefully it'll happen. I will be spending most of my time preparing the logistics for another outdoor shoot on Monday. Check out the
Vertishop blog
in the near future for the behind the scenes and final looks. I find myself wearing this tee that I cut and tied more often than I do any other white t-shirt. After seeing similar styles at H&M for $17.95, although affordable, I had to create my own. You can't beat the Hanes t-shirt prices at Target.
I've been going back and forth on what I may need to pack for NYC. Mostly because I can't seem to predict the weather properly. Will have to do last minute texting to my sister to decipher whether warm clothes will be needed. Although the timing with the trade show puts me there right after fashion week, I can't wait to see what's in store. With that, my sister has been emailing me with various places we will be eating once I get there. Fortunately she has Fridays off at work and will be accommodating my palate and shopping addiction together. Right?
Keep posted on photos from the shoot I did with Alex. Will update soon!