rosewater saffron with pistachios please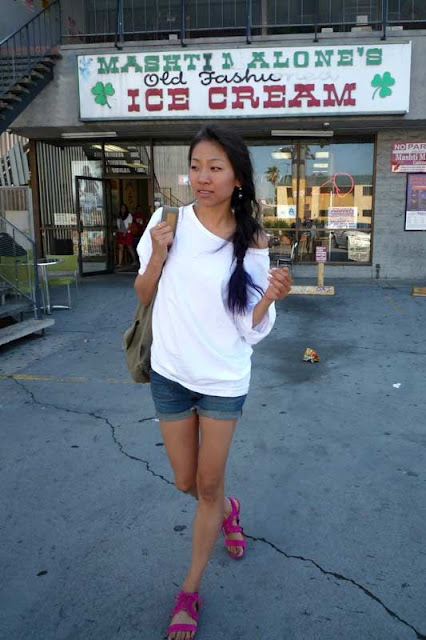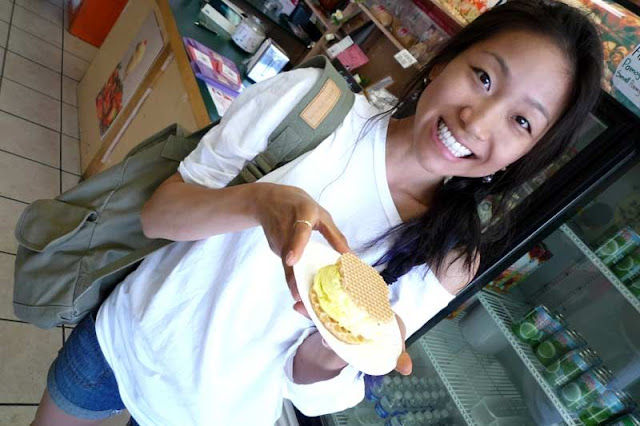 top, emma & sam - LF Stores; shorts, diy zara; hot pink sandals, jeffrey campbell
Another venture to sell some clothes at crossroads trading in melrose, provided the prime opportunity to test out a much talked about, must visit, ice cream shop. Mashi Malone's. Allowing only three free samples is a fine idea, especially because had I been given the chance to try more, it would have been an even more difficult decision to make.
I tried the lavender flavor, which was good... but remembered comment made by a friend several months ago at dinner while eating lavender creme brulee, quote : "it kinda tastes like lotion," I had to pass on that one.
I finally locked in on the popular rosewater saffron ice cream with pistachios, mashti style. Which in lamen's terms means sandwiched between two light waffle crisps, as pictured above. The white dolman sleeve top by emma and sam, LF stores, is so comfortable and light for summer... I wore it with a thin scarf during the spring. The hot pink laced sandals by Jeffrey Campbell, also LF Stores, was luckily scored at one of their warehouse sales last season. Summer finally beckoned them out of my closet, though I could tell they need some breaking-in. I will be doing some guest blogging for Vertishop, commenting on their new lookbook styles. Hope it'll be a fun read.